Function
Amplifies ambient sound, listen to music, answer calls or reject calls
PRODUCT DESCRIPTION
---
INTRODUCTION:
XDZ-H20T Wireless Audiphone uses in-ear hearing aids design, which amplifies ambient sound, allowing users to improve perception of the outside world. With the Wireless connection function, you can connect devices in a noise-canceling state, freely listen to music, answer calls or reject calls, enhancing the diversity of communication and entertainment. The headset can last 8 hours when fully charged, and has a voice prompt function for instant confirmation of low battery or any operating situation. Compared with all kinds of traditional sound pickup and noise reduction headphones, this product is smaller, lighter in weight, and integrates protective gear compatibility, portability, and comfort.
---
NAME OF MAIN PARTS(IN-EAR WIRELESS AUDIPHONE)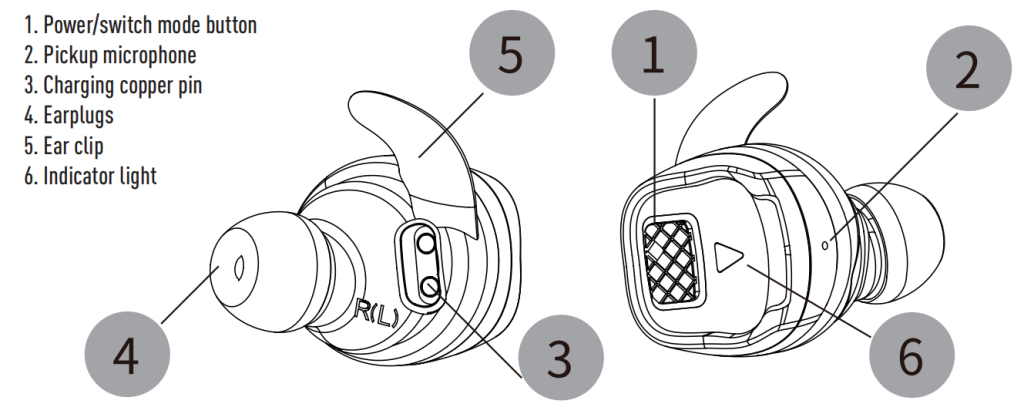 NAME OF THE RECHARGING BOX PARTS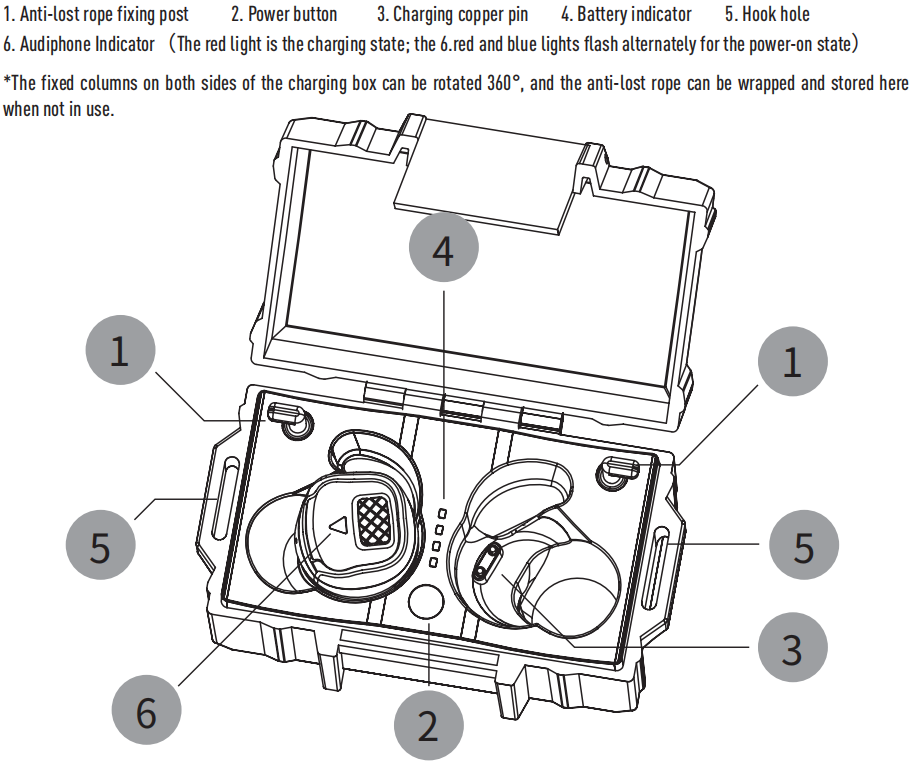 ---
WORKING PRINCIPLE
The sound sensor converts the sound information into an electrical signal, which is processed by the analog chip, and then transmitted to the receiver through the sound guide tube for output. The signal processing adopts the principle of analog signal amplification.
After testing and inspection, it can be used to compensate for hearing loss for those with air conduction hearing loss.
Model specification parameter table

Note: The above parameter index inspection equipment is AWA6128AH Hearing aid tester
Standard: IEC60118-7 2005;by using 2CC coupled cavity HA-1
Recharging box model parameter table

---
PRODUCT PERFORMANCE
1. Appearance and Structure.
1.1 All parts should be fully assembled and fixed reliably.
1.2 Text, symbols or marks should be clear, correct and firm.
1.3 The surface should be free of burns; warping, dents, scratches and other defects.
1.4 The connection of each component should be reliable and effective.
1.5 The operation of each adjustment button, switch, and other mechanisms should be flexible and effective.
2. Electroacoustic performance
Meets the requirements of the model specification parameter table
3.Electroacoustic performance after environmental testing
Meets the requirements of the model specification parameter table
4. Electromagnetic Compatibility
a)Should meet GB/T 25102.13-2010 "Electroacoustic Hearing Aids Part 13: Electromagnetic Compatibility (EMC)" requirements of capacitive regulations
b) Should meet YY 0505-2012 "Medical Electrical Equipment Part 1-2: General Requirements for Safety Collateral Standard: Electromagnetic Compatibility Required Summation Test".
5. Environmental test requirements
The environmental test of hearing aids shall comply with the provisions in 4.4 and Tables 2.1 and 2.2 of GB/T 14199-2010. The transport test shall comply with the provisions of Chapter 4 in GB/T 14710-2009.
6. safety requirements
It should comply with the provisions of GB9706.1-2007 "Medical Electrical Equipment Part 1: General Requirements for Safety".
---
QUOTATION
Click here to request a quote for this product.
Contact us